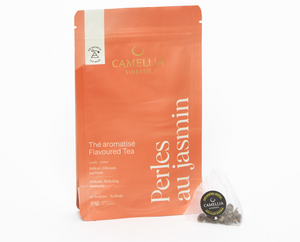 Jasmine Pearls Tea
Eight lots of fresh jasmine flowers will be used to perfume this Chinese green tea, rich in buds. This handcrafted production, by our long-time collaborator, Mr. Zhang, stands out on the market due to its high quality and the much-appreciated strong floral presence.
Watching these small pearls gradually unfold in the water is also visually impressive. The low caffeine content and the soothing effect of jasmine make this a tea accessible to all. A great classic of the house.
The pyramid form of these compostable teabags (no nylon is used) liberates the leaves' rich flavours revealing the freshness of the tea.
Each teabag 2.5 grams of tea.
: Green tea from China, jasmine.