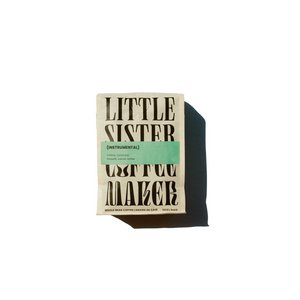 (INSTRUMENTAL)
There's a reason it's hard to put it into words.  It doesn't ask too much of us, and yet, if you close your eyes for a second you can just
feel
the complexity.  A few light notes at the top, but kind of bass-y too, and what a finale! Give it up for the instrumental - right on cue.
(Instrumental) currently features a long time favourite coffee of ours - El Meridiano - which comes to us from the 58 members of the Association of Specialty Coffee Growers of Alto Saldana. Their unique location allows for harvesting almost year round -  which means they are consistently producing approachable balanced coffees like this one. A perfect choice for a clean, sweet and full cup of filter coffee. 
Tasting Notes: Smooth, Cocoa, Toffee
Origin: La Herrera, Rioblanco 
Region: Tolima, Colombia
Producers: Asociación de Productores de Café Especial del Alto Saldana
Process: Traditional Fully Washed
Varietal: Caturra, Castillo, Colombia
Altitude: 1500 - 1900 masl. 
*if you'd like your coffee ground, add to notes indicating for which brew method you'd like it ground. Please note: we will only grind 12oz. and 2lb. bags of coffee!