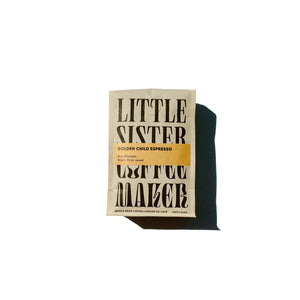 GOLDEN CHILD ESPRESSO
Admit it: sometimes you have to play favourites. There's that sharp citrus giving away to a bold mouthfeel and candy finish again - Golden Child hasn't let you down yet.  You can keep it to yourself if you want... we know.
Golden Child is comprised of coffee from the relatively new washing station Mulish - which has nonetheless already developed a reputation for its excellent coffees. The station has led to a rapid development of coffee farms in the area, and a sister washing station to meet the increasing demand. We love this coffee as espresso; complex and effervescent on the palate, but easy to work with and dial in.
Tasting Notes: Bright, floral, sweet
Origin: Mulish Washing Station
Region: Guji, Ethiopia
Producer:  Faisal Abdush / 800+ Smallholders
Process: Washed
Varietal: Mixed Heirloom
Altitude: 1800-1950 masl.
(If you used to like Dogwood's Neon Espresso, you'll LOVE this. ) 
*if you'd like your coffee ground, add to notes indicating for which brew method you'd like it ground. Please note: we will only grind 12oz. and 2lb. bags of coffee!