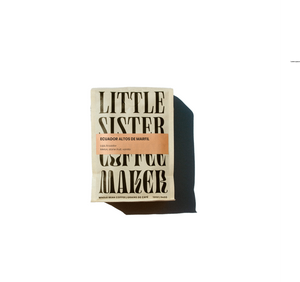 Ecuador Altos de Marfil
From the highlands of southern Ecuador, in the canton Puyango, comes Altos de Marfil. 44 small-scale producers combine to bring us this delicious coffee grown on farms dotted with Tagua palms and Porotillo trees and equipped with micro mills and cement tanks for washing and fermenting the coffee. The coffee is also dried on site on raised patios under parabolas to regulate the sun's heat. On the cupping table we're tasting a stonefruit brightness tempered by a sweet and mild melon flavour.
Region: Puyango, Loja, Ecuador
Process: Washed
Varietal: Caturra, Catuaí, Sarchimor
Altitude: 1,200 – 1,860 masl.
Producer: Community Lot
 

*if you'd like your coffee ground, add to notes indicating for which brew method you'd like it ground. Please note: we will only grind 12oz. and 2lb. bags of coffee!