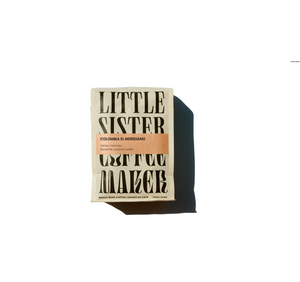 Colombia El Meridiano
We always love bringing in the coffee from El Meridiano at Little Sister - this crop in particular is a highly rated selection of beans evoking notes of nectarine, caramel and vanilla. El Meridiano is grown in a unique biological location nestled exactly between two national parks and draws water from the Río Hereje which in turn is born in the Andean moor 'Paramo del Meridiano', the coffee's namesake. It is a traditional washed coffee, dried on large patios and 'Casa Helda' - buildings with movable roofs that can protect the drying coffee when it rains.

Region: Herrera, Tolima, Colombia
Process: Traditional Washed
Varietal: Caturra, Castillo, Colombia
Altitude: 1500 - 1900 masl. 
Producers: Asociación de Productores de Café Especial del Alto Saldana

*if you'd like your coffee ground, add to notes indicating for which brew method you'd like it ground. Please note: we will only grind 12oz. and 2lb. bags of coffee!