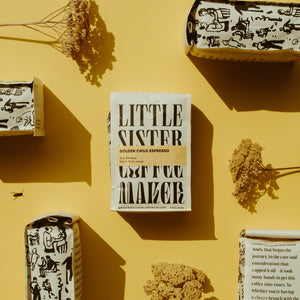 Golden Child Subscription
Little Sister take the wheel. 
With the GOLDEN CHILD ESPRESSO Subscription, getting the bright, floral and sweet wake up call - always fresh - is easier than ever. 
How often would you like GOLDEN CHILD to arrive each month?

Do you want a 3/4lb bag or a 2lb bag?
If you can answer those questions, we'll take care of everything else.
Easy-peasy-coffee-squeezy!
 ...
Like, it is that easy, but here's some more info in case you're curious:
Cancel, skip or change your subscription at anytime!
Free Local Delivery over $25!
Fun lil surprises along the way!
$15 flat rate for Canadian Shipping!
Free Canada-wide shipping over $75!