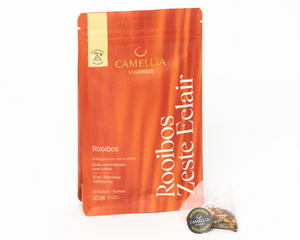 Rooibos Zeste Eclair
The rocky mountains where this Rooibos grows leave no traces in its light and refreshing brew. This version, embellished with pieces of grapefruit and lemongrass, is refreshing like a sunrise over the Cederberg mountains in South Africa.
The pyramid form of these compostable teabags (no nylon is used) liberates the leaves' rich flavours revealing the freshness of the tea.
Each teabag 2.5 grams of tea.
: Rooibos, apple, orange, grapefruit (flavour), cinnamon, ginger, cardamom, coconut, lemongrass, pink peppercorn, cornflower and currant.