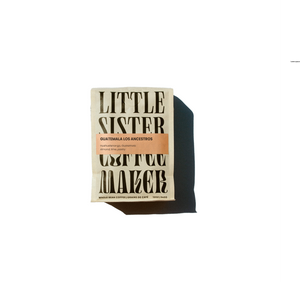 Guatemala Los Ancestros
Los Ancestros comes from 4 communities in Western Guatemala on the border of Mexico. The coffee is grown in the mountains that border Zaculeu, the archaeological site of the pre-colombian Mayan capital of the Mam Kingdom and the rich history of the land is echoed by the rich flavour of its coffee.  This community lot is dry fermented which reduces water use and deepens the complex flavour - after the bulk of the cherry is removed from the beans, they are left to ferment in the fruit residue before being washed and dried on concrete patios and raised beds. We're tasting rich almond and pastry, topped with a tiny bit of bright lime sweetness!
Region:
Huehuetenango, Guatemala
Process:
Traditional Washed, Dry Fermentation 
Varietal
: Bourbon, Caturra, Catuaí, Pache Colis
Altitude:
1300-1900
Producer:
Small Producers from Huehuetenango
*if you'd like your coffee ground, add to notes indicating for which brew method you'd like it ground. Please note: we will only grind 12oz. and 2lb. bags of coffee!