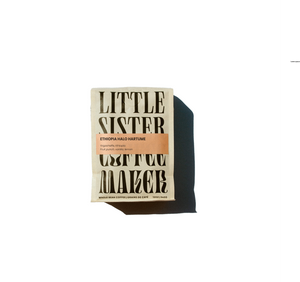 Ethiopia Halo Hartume
The Halo Hartume washing station -a few kilometers north of Gedeb town- is run by Mijane Worassa and his son Daniel and provides a much closer destination for the crops of 396 smallholder producers in the area. This means safer transport, fresher crops, and a highly traceable coffee with flavours representative of the high hills of Halo Hartume. Mijane works closely with the farmers to help spread practices of shade growing, organic compost and selective hand picking.  Painstaking attention to detail provides this big flavoured fruity coffee, with a smooth mouthfeel and sparkling finish. 
Region: Yirgacheffe, Gedeo, Ethiopia
Process: Natural
Varietal: Mixed Heirloom
Altitude: 2200 masl.
Producer: Mijane Worassa, Daniel Mijane & 396 smallholders
*if you'd like your coffee ground, add to notes indicating for which brew method you'd like it ground. Please note: we will only grind 12oz. and 2lb. bags of coffee!